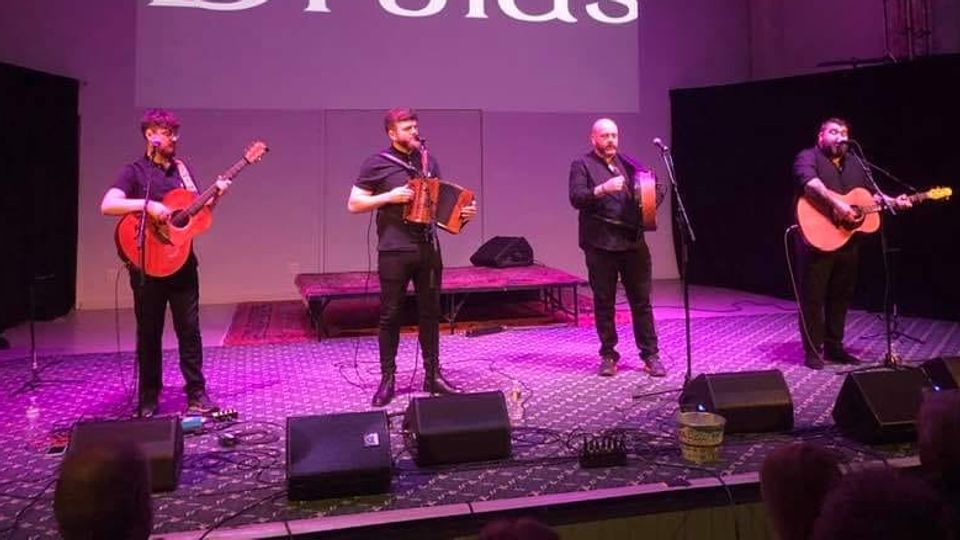 The Druids Weddings 
The Druids, an award-winning Irish folk band, have captivated audiences around the world with their enchanting melodies and spirited performances. With a rich history and a deep-rooted connection to Celtic culture, The Druids have become a household name in the world of traditional and contemporary folk music. With a career spanning decades, The Druids have earned their reputation as a band that can move hearts and get feet tapping. Their music is a fusion of traditional Irish folk with a modern twist, making it both timeless and contemporary.
The Druids Wedding Package
Exciting news for couples seeking a unique and unforgettable wedding experience – The Druids are now offering an exclusive wedding package! Say goodbye to the ordinary and let The Druids bring the magic of Irish folk to your special day.
Why Choose The Druids for Your Wedding?
Unforgettable Entertainment: The Druids are not your typical wedding band. Their enchanting music and high-energy performances will leave your guests mesmerized and dancing all night long. The band's deep connection to Celtic heritage adds a unique and romantic touch to your wedding. Whether you have Irish roots or simply appreciate the beauty of Irish culture, The Druids' music will create an atmosphere of warmth and enchantment. The Druids have received numerous awards and accolades in the world of folk music. You can trust that you're getting top-tier entertainment for your special day.
While deeply rooted in Irish folk, The Druids' repertoire is versatile and can cater to a wide range of musical tastes. From lively jigs and reels to soulful ballads, their music is perfect for various moments throughout your wedding, from the ceremony to the reception. Your wedding is a once-in-a-lifetime event, and The Druids will ensure it's a day you and your guests will cherish forever. Their music will create lasting memories.
Make your wedding truly unique and unforgettable with The Druids. To inquire about booking The Druids for your wedding and to learn more about their exclusive wedding package, please read below.
Your wedding deserves the best, and The Druids are here to provide an exceptional and enchanting musical experience that will be cherished for years to come.
Reviews: 
The Wedding of Declan Groome and Josephine coady took place on 27th April 2023.We had such a brilliant day but to top it off we had the band of Our choice -The Druids.To say that they were amazing is an understatement, from start to finish, top class,from our very first email to the big night the Druids were so helpful,they left no stone unturned.We cannot recommend this band enough.From the time they started our first dance(which was amazing by the way)to the last song they had the house rocking out of it for the whole night,the variety of music suited all young and old.Also the Druids Dj shay, that kicked off the 2nd part of our night that kept the wedding party buzzing.It really finished off our night on a great note.Everyone is still complementing us on our choice of wedding band, Dj The Druids 😊👍
Kind regards
Declan Groome and Josephine coady
What an Absolute Hooley!! We choose the Druids as our wedding band and couldn't have chosen a better band. There set list was very versatile, from folk ballads to 90s dance songs; our guests didn't leave the dancefloor. Throughout the preparation process they also learnt new songs especially for us and 'off the cuff' were able to perform 'My Lovely Horse' after a request from a guest. The DJ included in the package also did a great job playing some serious bangers until the early hours. 10/10" Paul & Kathleen O Leary 11.4.23
"The Druids are an amazing band who had our wedding guests on the floor the entire night (and still talking about them over breakfast)! The band had a fantastic energy and played a range of music that appealed to everyone. The lads were so easy to plan with and we couldn't recommend them highly enough as musicians and performers- they really put on a show! We feel so lucky to have got them for our date and are looking forward to seeing them perform again soon!"- Mr & Mrs Slattery 23.10.21
We booked The  Druids after seeing them play at our best friends wedding, they were so good. People dancing, interacting with the guests, they really are excellent entertainers. Highly reccomend. Lisa Walters 27.08.2022 
Wow !!  The Druids Just wow!! From Irish dancing to Maniac 2000 what can i say. Booked the band as i seen them rock the ballybofey festival in July2022. They are so good. The Longs 08.10.2022
The Druids offer three exciting wedding packages to cater to your specific needs and preferences:
Package A (The Druids Wedding):
Band Performance: The award-winning Irish band, The Druids, will play an all-inclusive 2-hour set, featuring your favorite songs. Their enchanting melodies and spirited performances will have your guests dancing from start to finish.
Rave Reviews: The Druids are no strangers to weddings and consistently receive rave reviews from guests. Many have said it's the best wedding they've ever attended.
Package B (The Druids Wedding Plus DJ):
Band Performance: Just like in Package A, The Druids will play an all-inclusive 2.-hour set, ensuring a lively and memorable wedding celebration.
DJ Entertainment: In addition to the live band, this package includes DJ Shay, who will keep the party going with a selection of party hits from the 80s, 90s, and 2000s. You'll get the best of both worlds with live music and a DJ to cover a wide range of musical preferences.
Package C (The Druids Day After Wedding):
Post-Wedding Celebration: If you're looking to extend the festivities, The Druids offer a unique option where they will perform the day after your wedding. This provides your guests with the opportunity to relax and enjoy top-class musicians in an intimate and up-close setting.
Whichever package you choose, The Druids will bring their exceptional talent and Irish charm to your wedding, ensuring that it's a memorable and enchanting experience for you and your guests. Make your wedding a celebration to remember with the captivating music of The Druids. Contact them to discuss the details and book the package that suits your needs best.